Bristol Rovers & Bradford City: how to stage a recovery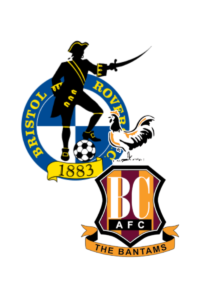 Bristol Rovers were the biggest climbers in the Fan Engagement Index 2019/2020, posting a rise of 65 places in the table, but more importantly 80 points in their overall score. Along with Bradford City, who climbed 42 places and 55 points respectively, these two clubs were two big turnarounds in Fan Engagement this year.
Bristol Rovers had for many years, had a difficult and at times, very poor relationship with their fans overall. Despite having an independent supporters group (the Bristol Rovers Supporters Club) holding shares, many of the features of good engagement hadn't been in place. Under Martyn Starnes and Tom Gorringe, respectively CEO and Commercial Director, the club has opened up more and more channels of engagement and listening, and the owner and President, Wael Al-Qadi has been increasingly open with fans about all aspects of the club.
These changes, many of which entail leadership and visibility, are big shifts in culture that a lot of football clubs would do well to imitate, with lots of regular briefings from the President, fans forums, and a very open door policy on engagement on Twitter by Tom Gorringe and the club. Although they are still making progress, they have an underpinning through their relationship with the Supporters Club (though it has gone through rocky patches), and we hope to see this consolidated next season.
❕ This will be our Virtual Fans Forum thread, featuring all the responses from today's chat with supporters…#BristolRovers pic.twitter.com/SXugPbW4Sh

— Bristol Rovers (@Official_BRFC) July 10, 2020
Bradford City are also a good example of how to turn things around. The club had a very difficult period under a former Chief Executive Edhin Radic and relations between club and fan representatives and individual fans, at rock-bottom. Under stand-in CEO Julian Rhodes and then Commerical & Communications Director Ryan Sparks, the club began to throw open the doors. The standout example of this was Ryan Sparks spending a lot of time going out to meetings of fans locally, and when Covid-19 hit, hosting them online. He re-established the Supporters Board, which had fallen out of use under Rahic, and brought in BBC Radio Leeds to chair the regular fans forums. When interviewed on the Fan Engagement Pod, he explained more about his style, which never involves shying away from a problem.
We hope that both of these clubs continue to keep this excellent work up.
If you'd like a chat with someone there, drop them a line or we can put you in touch ourselves.